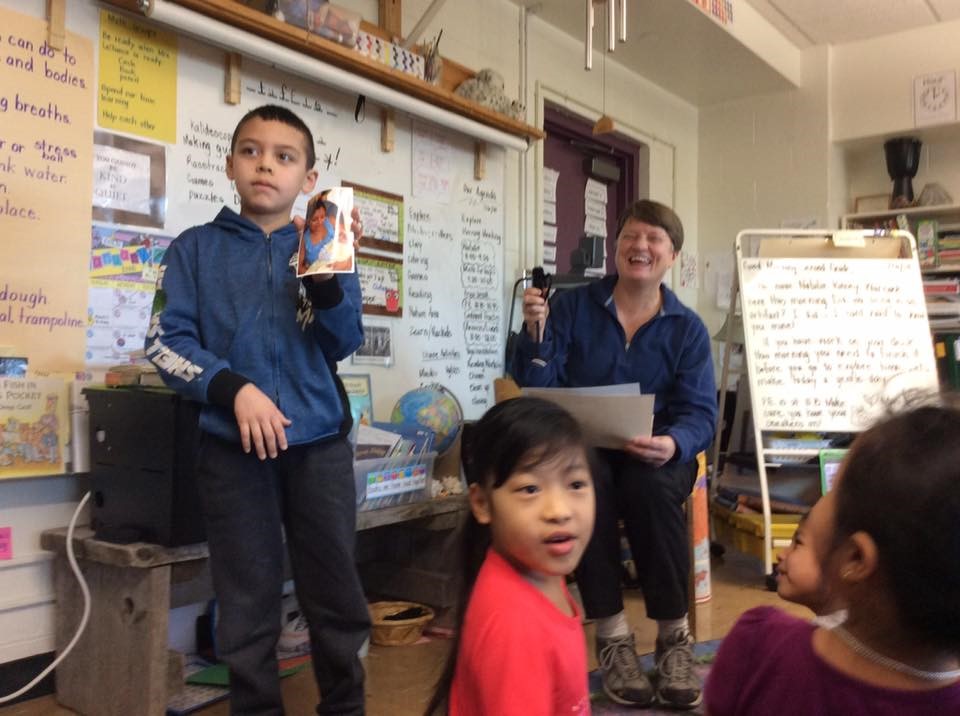 S.A.  Students Learn From Vermont Author
by: Pramudita Kuikel and Penelope deRosset
Author Natalie Kinsey-Warnock is at our school this week for a six-day residency. She will teach the kindergarten through Grade 5 students about genealogy, so we can find out about our families and remember their stories. She has written many books and is currently working on more than sixty others.
The first book she ever wrote was a chapter book called The Canada Geese Quilt. According to her website, she made this book because she always made quilts with her grandmother. We learned in her presentation Monday that her grandmother started quilting in her sixties and made about 250 quilts until she died in her eighties. Here are a few of her other books: As Long as There are Mountains, The Bear that Heard Crying, From Dawn till Dusk, Nora's Ark, A Farm of Her Own, and The Fiddler of the Northern Lights.
On her first day, Natalie Kinsey-Warnock presented to the Grades K-5 students and started a Genealogy and Family Tree Unit. After an introduction to genealogy and discussion about it, she sent Grade 3-5 students home with the task of beginning to fill out their family trees.
Day 2: Featured her Photography Unit, with students learning what old photographs tell us, and how to be detectives and find clues from photographs.
Day 3: We learned about primary and secondary sources, and artifacts.
Day 4: Was the Census Unit. Students learned about the census, how and why it started, how to discover their ancestors in the census, and what it can tell them about their ancestors.
Day 5: Included learning about other online research tools such as; ancestry.com, newspaper archives, chroniclingamerica.loc.gov, findagrave.com, etc. All these sites are on our SA library page.
On her final day, students chose a family member, decided what resources they would use to research that person, and planned their culminating project.
Here are some facts we have about Natalie's life and work:
Natalie writes books about her childhood and family history. She says she does this because she doesn't want them to be forgotten.
According to her book, Nora's Ark, "Natalie Kinsey-Warnock grew up on a dairy farm in the Northeast Kingdom of Vermont, where she now lives with her husband."
In almost all of her books she has written about different family members and her childhood.
Natalie is one of those people who is interested in our community.
Natalie has 21 books published, 40 books finished, and she is currently writing 65 more.