Classrooms
We are working to build this section for the 17-18 school year, check back soon.
Specials
Students at SA expand their learning through art, music and physical education classes to be well-rounded students as they prepare for Middle School. Visit our class pages to learn more about student learning and projects.
Music | Ms. Schwerin
Art | Ms. Sharp
Physical Education | Ms. Archacki
Learning Center | Mrs. Hayes
Learning Center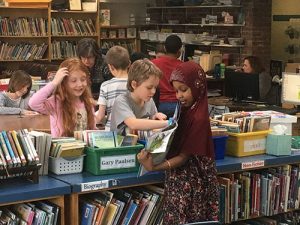 In a room often described as a tree house overlooking our neighborhood in the Old North End, the Sustainability Academy library/learning center serves the entire school community.  The library offers classes to students in all grade levels and provides small group work spaces, comfortable couches for reading, a full computer lab with an interactive whiteboard, special shelves devoted to books about sustainability, and a collection of over 25,000 fiction, non-fiction books, graphic novels, picture books, and leveled books.  In addition, our Community Book Bag program provides sustainability and curriculum themed book bags available for check out by SA Community Members.
Guidance
SA Guidance Counselor Karen Quinn provides assistance to students who face social and emotional challenges. Karen can be contacted at kquinn@bsdvt.org or 864-2216 and is available to meet and speak with parents.
Student Support Services
Student Support Services are available at SA to assist our students in a number of ways. Our staff of special educators, speech and language specialists, school psychologist and guidance counselor are here to be part of your child's team to help them excel inside and outside the classroom
Nurse
School Nurse, Justina Staff is available full time Monday – Friday during school hours. She supports student success by providing health care through assessment, intervention and follow up for children within the school setting. The School Nurse works with students, families, staff, medical providers and other community resources to support the physical, mental, emotional and social health needs of all the children in their learning process.
About Nurse Justina
Nurse Justina grew up on a sheep farm in the Northeast Kingdom of Vermont. She became a Registered Nurse in 1994, and was among other things a Community Health Nurse at the VNA for many years before committing herself to School Nursing in 2013.
In the past, she worked at Vineyard Sound Herbs in Martha's Vineyard and has studied holistic health and herbalism with many wonderful and well respected teachers. She has experience in gardening and garden design.
​
She's a seasoned traveler and has visited over 30 different countries,but the Old North End of Burlington has been her home for most of the past 20 years. She shares her home with her husband, three children, chickens and a cat.
She considers it a blessing and an honor to work with the wonderful students, families and staff of the Sustainability Academy every day.
It can be hard for parents to know when to keep their children home from school.
Everybody has busy schedules and we understand that mornings can be very hectic.
The School Nurse can help you determine if it would be better for your child to come to school, stay home sick or possibly see their doctor.

Top 5 Reasons to Keep you Child Home From School
Fever – Your child should be fever free for 24 hours, without the use of fever reducing medication, before returning to school.
Vomiting – In the case of illness, your child should be free from vomiting for 24 hours before returning to school.
Diarrhea – In the case of illness, your child should be free from diarrhea for 24 hours before returning to school.
Cough – If your child has a severe or persistant cough that is keeping them from sleeping at night or would significantly impact their classroom learning, please keep them home until improved.
Antibiotics – If your child is taking antibiotics for a condition or illness that is contagious and could be spread to others, it is generally reccomended that your child stay home from school for 24 hours after starting antibiotics. Other situations may apply, check with your child's doctor for their reccomendation.
  **Please contact the Main Office at 864-8480, if you know your child will be absent**
We do not exclude children from school if they have lice. Please send your child to school, but take the necessary steps to get rid of the lice.  Feel free to ask the School Nurse if you have any questions or need help. 
Property Services

Visit SA and you will be sure to see our dedicated custodians working hard behind the scenes to keep our school in fantastic shape. To contact District Property Services, please call 864-2158.