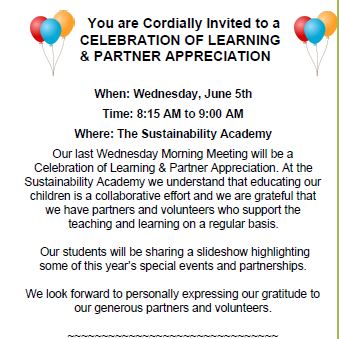 Our last Wednesday Morning Meeting will be a Celebration of Learning & Partner Appreciation. At the Sustainability Academy we understand that educating our children is a collaborative effort and we are grateful that we have partners and volunteers who support the teaching and learning on a regular basis.
Our students will be sharing a slideshow highlighting some of this year's special events and partnerships.
We look forward to personally expressing our gratitude to our generous partners and volunteers.
When: Wednesday, June 5th
Time: 8:15 AM to 9:00 AM
Where: The Sustainability Academy