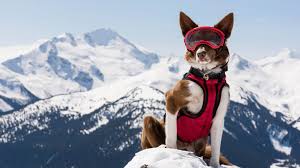 Dogs may seem like they're just fun, fluffy goofballs. But some dogs actually work real jobs, such as farm dogs, guide dogs, and rescue dogs. Dogs can't talk, so they have to show what they think by doing the right action, like barking or sitting very still next to what they've found. Working dogs train for several hours every week, and can work for about 6-9 years. Then they get to retire and spend time doing what dogs love to do – eating, sleeping, playing, and relaxing with their families. If you want to learn more about how some dogs work special jobs, check out the movie Super Dogs, or watch the trailer (with an adult's permission) on YouTube – Superpower Dogs Official Trailer | Experience It In IMAX®.
Kindergarten: In a farm dog training there are 5 animals. Some of them are dogs and some are sheep. How many of each could there be?
Grade 1: If a dog trains to help as a lifeguard at the lake until age 3 and then works for 7 years, how old is the dog when he stops working? 
Grade 2:  If an 11-year old seeing eye dog (a dog who assists people who are blind) has worked for 9 years, how old was she when she started working?
Grade 3: If a farm dog starts training at 9:30 am each day for 8 hours straight, at what time does training end?  
Grade 4: If in a water rescue training there are 5 times as many dogs as ducks and there are 20 dogs, how many ducks are there?
Grade 5: In a snow rescue training there are 5 times as many dogs as humans, and there are 36 dogs and humans in total, how many of each animal do we have?
Think you know the answer? Submit your response to Principal Oropeza (noropeza@bsdvt.org) by Tuesday, April 7. We'll announce the winner during our next Wednesday Morning Meeting on Wednesday, April 8! See you then.