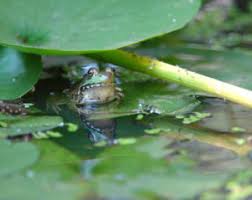 Jumping Frogs
(from Pierce Elementary School in Brookline MA)
This week, there is one math challenge for all SA students, K-5.
Two frogs are hopping along a path of lily pads, going in the same direction. There are 36 lily pads. The first frog jumps 3 lily pads at a time. The second frog jumps 2 lily pads at a time. On which lily pads will both frogs land if they start at zero? (Hint: Think about skip counting) Show your thinking using pictures, words, or numbers.
Think you know the answer? Submit your response to Ms. Oropeza (noropeza@bsdvt.org) or your classroom teacher by Tuesday, May 5th at 1:00pm. We'll announce the winner during our next Wednesday Morning Meeting on Wednesday, May6! See you then.