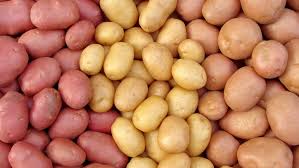 Potato Challenge
A Farmer grows 100 pounds of potatoes. The farmer sells them to a grocer who will divide them into 5-pound bags and 2-pound bags. 
K-2: What is one combination of bags the grocer could make using all 100 pounds of potatoes? 
3-5: Can you list 2 possible combinations? More? Show your work using pictures, numbers or symbols. 
Example: The grocer could have ____ 5-pound bags and ____ 2-pound bags. I figured this out by…
Think you know the answer? Submit your response to Ms. Oropeza (noropeza@bsdvt.org) or your classroom teacher by Tuesday, May 19th at 1:00pm. We'll announce the winner during our next Wednesday Morning Meeting on Wednesday, May 20! See you then. 
Thank you Pierce School in Brookline, MA for this Math Challenge.