Classrooms
Our 2021-22 Classroom Teachers.
Click on a teacher's name to be taken to their class website.
Kindergarten
First Grade
Second Grade
Third Grade
Third / Fourth Grade
Fourth Grade
Fifth Grade
Julia Marchessault
Kellie Smith
EL
EL Staff
Jen Lenihan
Chaska Richardson
Unified Arts
Students at SA expand their learning through art, music and physical education classes to be well-rounded students as they prepare for Middle School. Visit our class pages to learn more about student learning and projects.
Music | Ms. Schwerin
Art | Erika White
Physical Education | Mr. Bissonnette
Learning Center | Jessica Wisloski
Library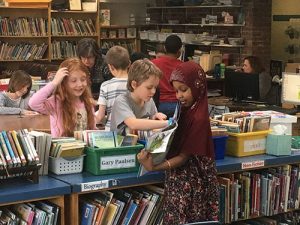 In a room often described as a tree house overlooking our neighborhood in the Old North End, the Sustainability Academy library serves the entire school community.  The library offers classes to students in all grade levels and provides small group work spaces, comfortable couches for reading, a full computer lab with an interactive whiteboard, special shelves devoted to books about sustainability, and a collection of over 25,000 fiction, non-fiction books, graphic novels, picture books, and leveled books.  In addition, our Community Book Bag program provides sustainability and curriculum themed book bags available for check out by SA Community Members.
School Counselor
SA School Counselor Susan Dodd provides assistance to students who face social and emotional challenges. Susan can be contacted at sdodd@bsdvt.org or 864-8480 extension 11005 and is available to meet and speak with parents.
Student Support Services
Student Support Services are available at SA to assist our students in a number of ways. Our staff of special educators, speech and language specialists, school psychologist and guidance counselor are here to be part of your child's team to help them excel inside and outside the classroom.
Click here to visit the District Student Support Services page.
Nurse
School Nurse, Justina Starr, RN is available full time Monday – Friday during school hours. She supports student success by providing health care through assessment, intervention and follow up for children within the school setting. The School Nurse works with students, families, staff, medical providers and other community resources to support the physical, mental, emotional and social health needs of all the children in their learning process.
Property Services

Visit SA and you will be sure to see our dedicated custodians, Sonam Lhakhang and Toshi Ngawang, working hard behind the scenes to keep our school in fantastic shape. To contact District Property Services, please call 864-8453.