Principal Nina Oropeza
Hello, नमस्कार, haye, hola,مرحبا Sustainability Academy Community!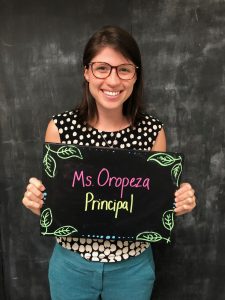 I am excited to serve as the SA Principal beginning in the 2019-20 school year. I am passionate about expanding educational opportunity and prioritizing education for sustainability for all students. I've spent the past decade working in a diverse set of schools across the country from the US-Mexico border in Texas to Washington D.C. and most recently, Boston, Massachusetts. I grew up in Salinas, California, which is often referred to as the "Salad Bowl of the World" because so many vegetables are grown there!
My career in education began as a classroom teacher in a high school located on the US-Mexico border. Living and working in this setting cultivated my appreciation and love for communities that embrace multiple languages, cultures, and customs. After teaching high school, I transitioned to teaching elementary school in Washington D.C. I then transitioned to district-level leadership, serving as the Director of Design for D.C. Public Schools in Washington D.C., a role focused on teacher leadership and professional development programming across the district's 115 schools. I have a B.A. in Social Welfare and minor in Education from the University of California, Berkeley as well as an M.Ed. in School Leadership from the Harvard Graduate School of Education. 
When I am not at SA, you might find me in the garden, camping, hiking, or baking bread. These are some of my favorite activities, which I love to do with my favorite creatures – my partner (Chase) and dogs (Lola and Remy)! My door is open – please stop by and visit me at SA sometime soon.