Due to the premature and sudden closure of schools in spring 2020, students will not be held responsible or penalized for books that went missing and are unable to be recovered from homes by fall 2020.
Book Limits
K-2 Students: Students can check out 1 book per week.

These new books must be returned when the student is finished in order to check out a new book.

Grades 3-5 Students: Students can check out 2 books per week.

These new books must be returned each week in order to check out new ones.

Students who still have books checked out from March 2020 MAY check out new books. We will continue to send notices home as reminders.
Remote students or in-person students who may be required to stay home in the event of a school closure are still able to access books. Please see the Remote Loans document and remote loan form (both open in a new tab) for details.
Loan Length
Q: How long can I have a book? A. 2 Weeks
Book loans are 2 weeks in length, but may be renewed until another student has requested use of a book. Remote students are subject to different loan terms.
Q: Can I keep it longer? A. Yes.
Renewals may be requested by emailing Ms. Wiz at sa-library@bsdvt.org or asking for renewal upon a classroom visit.
Q. What if we lose or damage a book? A. Please return the book.
Sometimes books that are torn, damaged, or coming apart may still be repaired. But even remains of really damaged books are helpful in keeping our inventory updated and it allows us to reorder a book based on the condition of the previous book.
Q. What if I lose or damage a book and can't pay a fine or book cost? A. We do not charge late fees as a penalty, and we do not collect for lost books. We do ask for families to notify us when a book is lost, which will clear the student's account.
Limits are applied to a students' ability to borrow books. If a student repeatedly loses or damages books in a short amount of time, and wishes to restore normal loan limits, we may allow them to help us with the library duties to return to normal loan terms.
Please reach me or a multilingual liaison with any questions:
Jessica Wisloski (Ms. Wiz)
SA-library@bsdvt.org and (802) 864-8480 x11212
Library HomeDestiny 'Discover'
How Circulation Works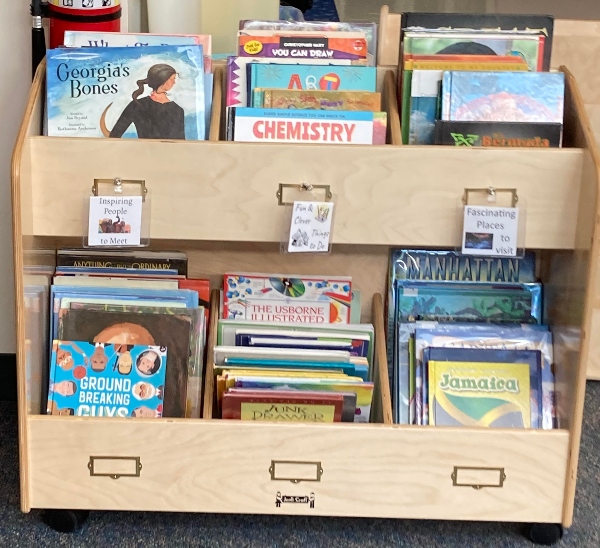 Yes, things look a little different this year!
Grades K-2 have received books in two ways:

Using 'book menus' like this one (link opens a Google Doc) with the selections picked by Ms. Wiz.
Browsing in the classroom with a selection offered on the library trolley. Sanitizing and physical distancing are in place.

Grades 3-5 have these book access times:

At least once time a week, teachers give learners the option to login to Discover during choice times, to browse books in the online catalog (opens a new page) and put books on "hold." Ms. Wiz or Ms. Skye then deliver the books right to the classroom when the books are ready.
During Library Class, if it they are in the pod for library, Ms. Wiz will bring a cart with selections of books for browsing, with sanitizing of hands before and after.
Updates from Library Land
We are using this time to experiment with new layouts, reorganize, and provide services for teachers to help bolster and support classroom units.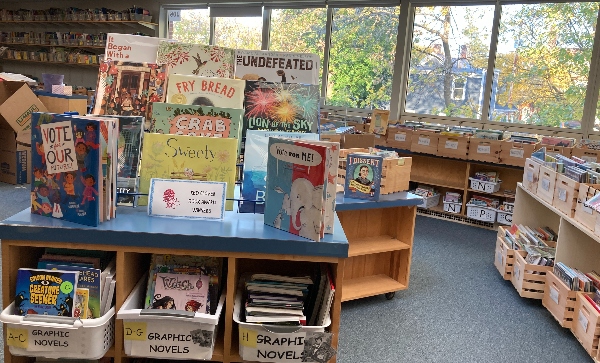 Library Put Into Good Service
At this time it is not known if students will be able to use the library space for browsing within this school year.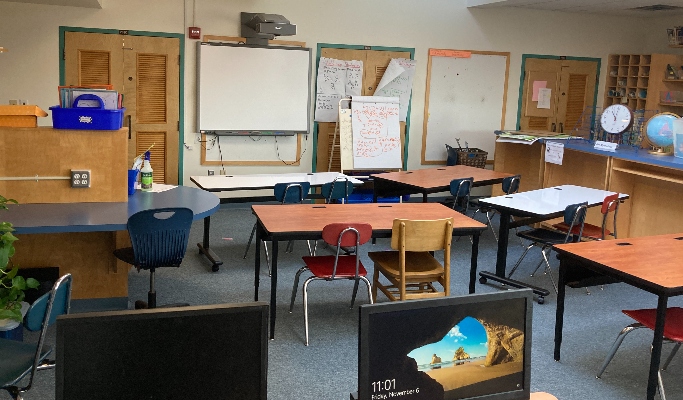 This is the classroom space currently at home in the library. Having the extra room here allows us to keep our 4th grade math students working comfortably while still distanced.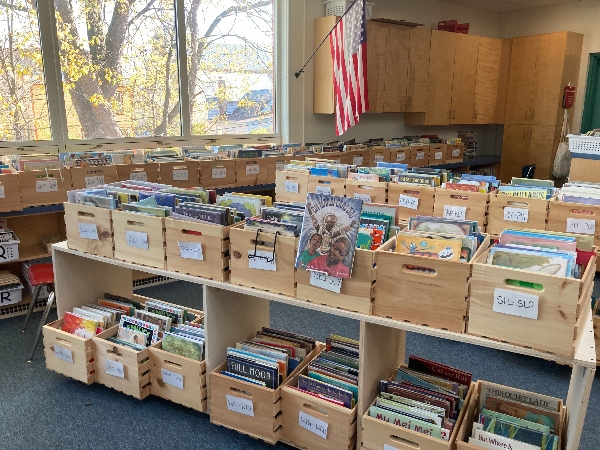 We're trying new ways to improve the browsing bins – an idea Ms. Hayes began last year that is meant to help give readers a better idea of what they're looking for.
Library Home